BOB'S FAREWELL CONCERT. HONEST.
Yes, the rumour is true. After 50 years on stage*, I am hanging up the banjo. But not without one last hurrah: a weekend of farewell concerts with my old Stringband mates and musical friends, Marie-Lynn Hammond, Ben Mink, Calvin Cairns, Paul Gellman and Dinah D.
The shows are on the west coast: Thursday, February 15 at the Roxy on Gabriola Island; Friday, February 16 at the Gabriola Community Hall is SOLD OUT; Saturday February 17, Victoria (Sidney, actually); and Sunday February 18, Vancouver. And that's it.
Why retire? I figure Sandy Koufax had it right: I want to stop at the top of my game… Well, almost at the top. And I wanted a grand going-away party which, thanks to my old comrades, musical and otherwise, it will surely be. Great musicians, new songs, old favourites and old friends - what a good way to say goodbye and thank you.
Please pass this on. Thanks.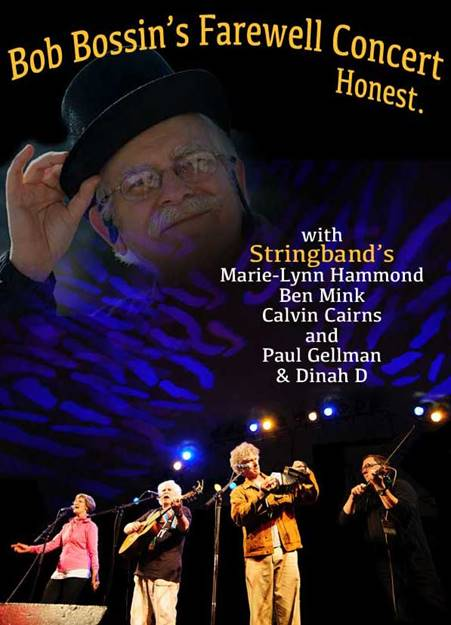 Here are the details:
Thursday, February 15 at the Roxy on Gabriola Island. Tickets at the Nature Spirit Store on North Road. If you are off island, phone 250-247-0210 and reserve. No on-line ticketing available.
Friday, February 16, 7:30 Gabriola Island Community Hall.
SOLD OUT.
Saturday, February 17, 8:00 Victoria (the Mary Winspear Centre, Sidney BC.)
Tickets on line from http://marywinspear.ca/event/bob-bossin.
Sunday, February 18, 7:30 WISE Hall, Vancouver
Tickets on line from https://www.brownpapertickets.com/event/3194468. Or from Highlife Records, 1317 Commercial Drive, Vancouver (in a few days.)
The Vancouver show is in support of BROKE (Burnaby Residents Opposed to the Kinder-Morgan Expansion).